BMW 5 Series G30/G31 tuning
BMW 5 Series performance
The current BMW 5 Series model's M version Type G31 comes with up to 600 hp.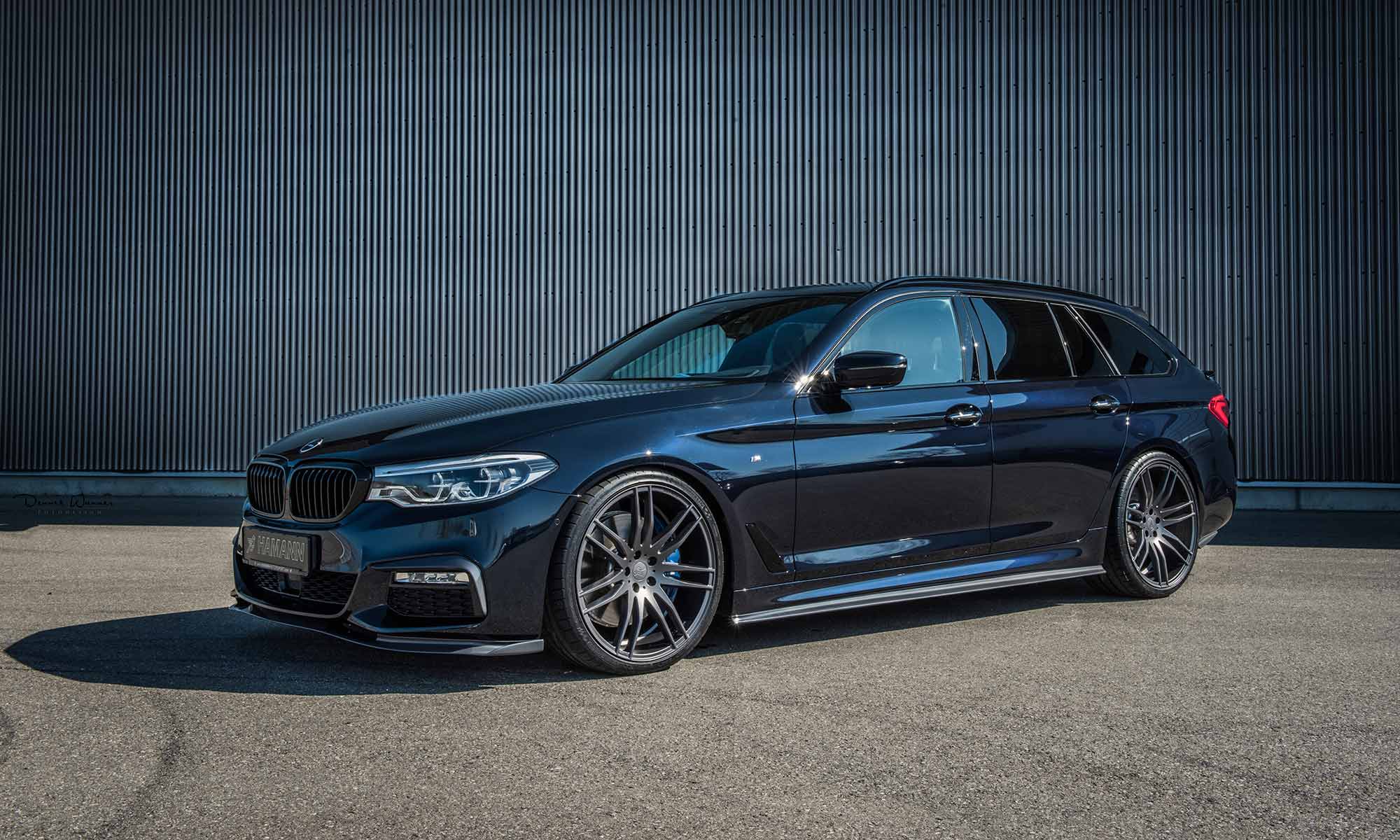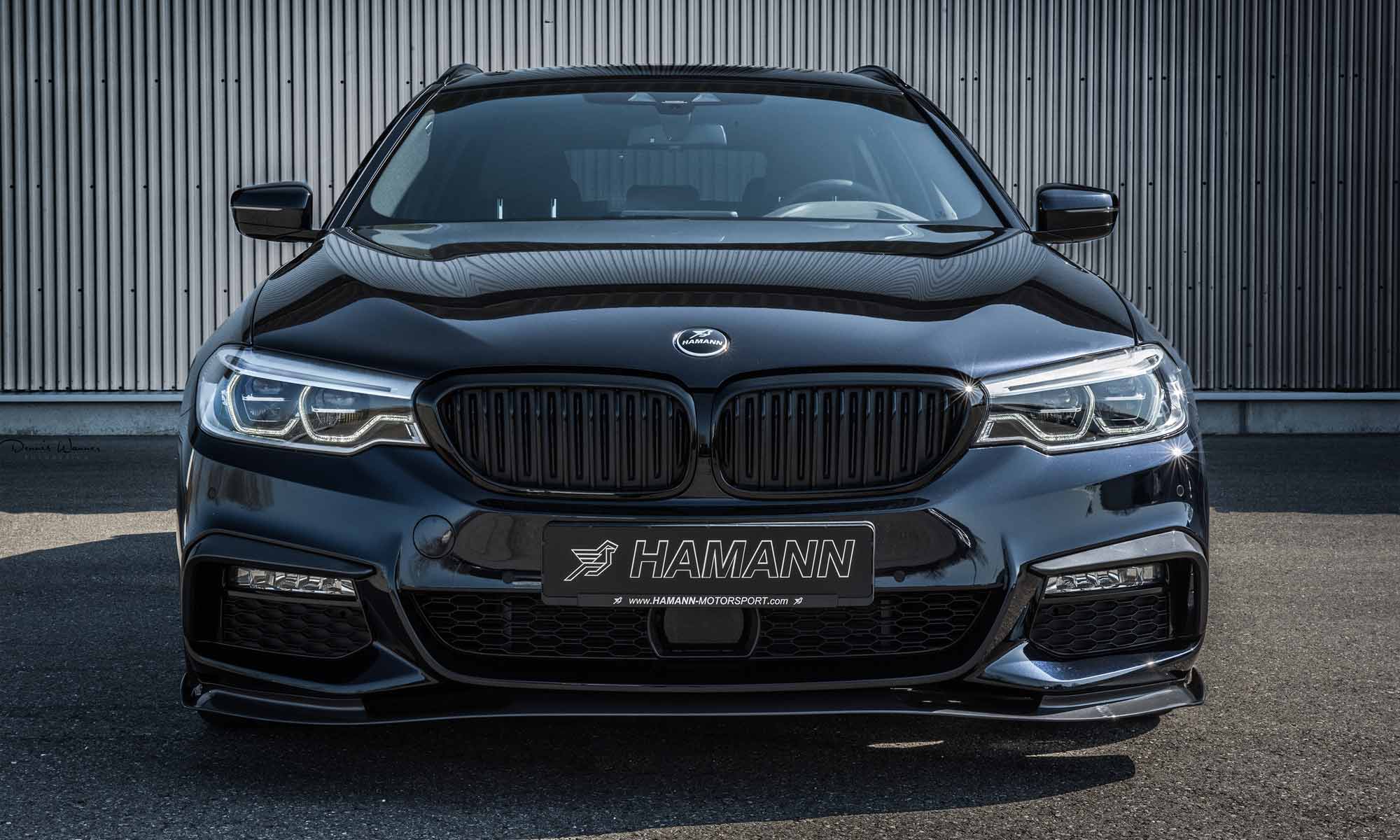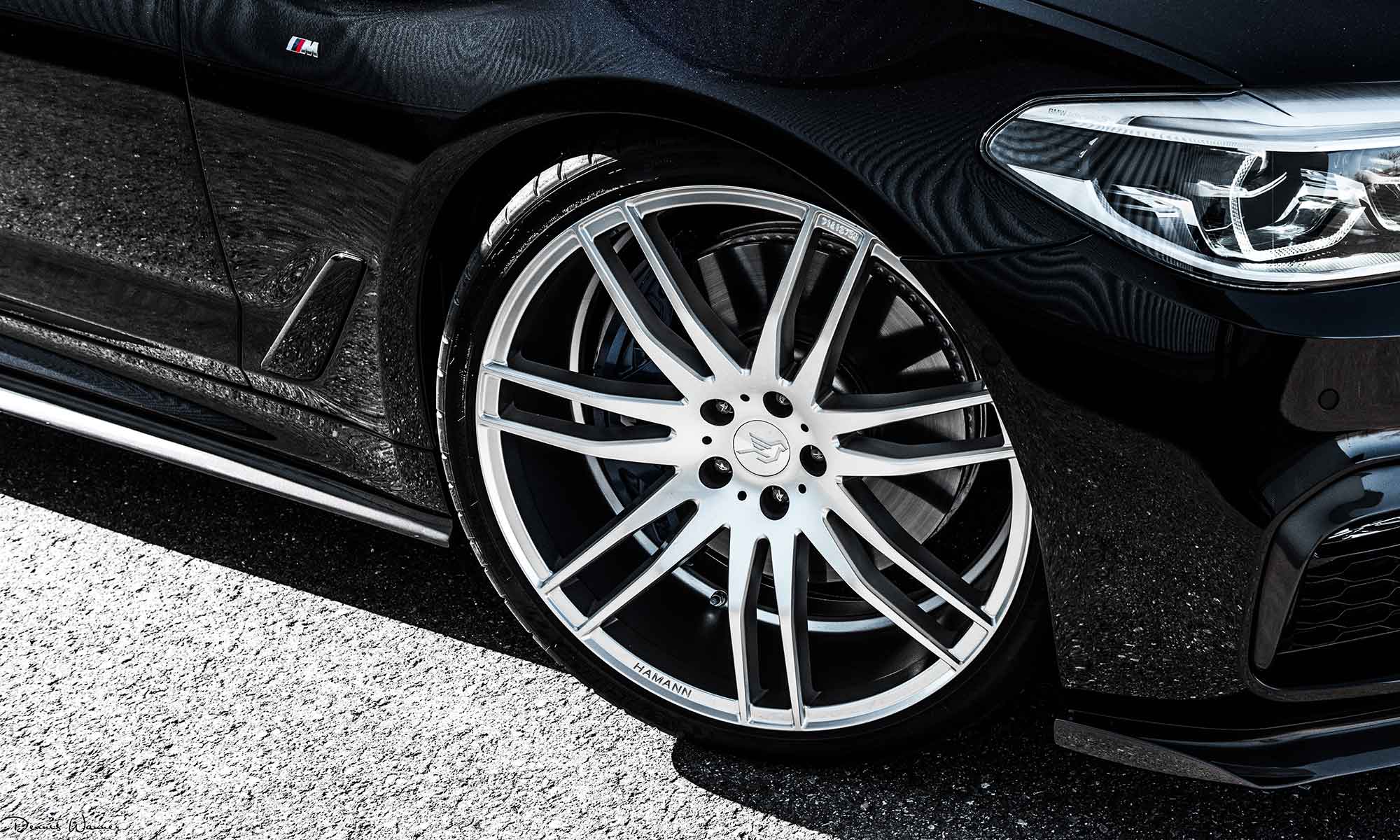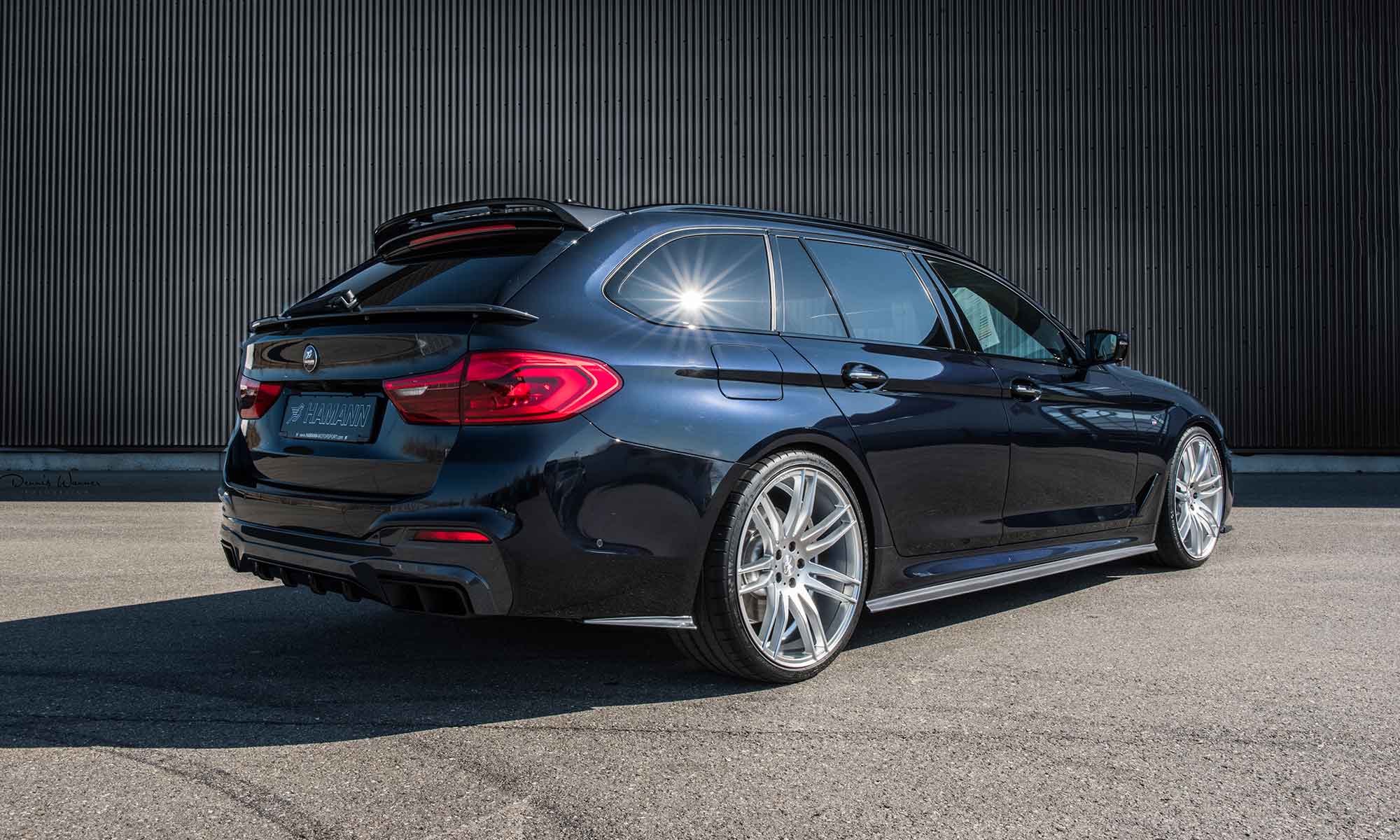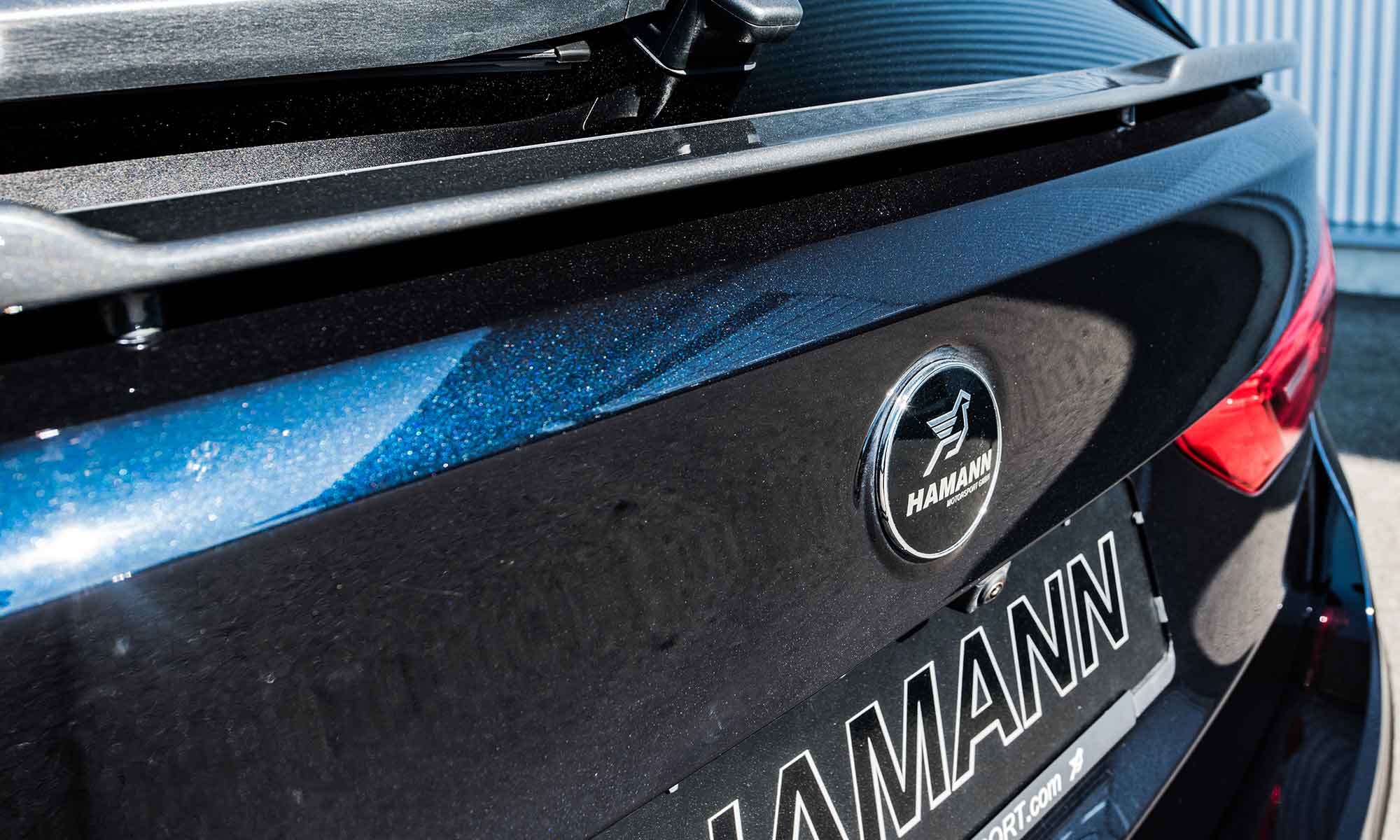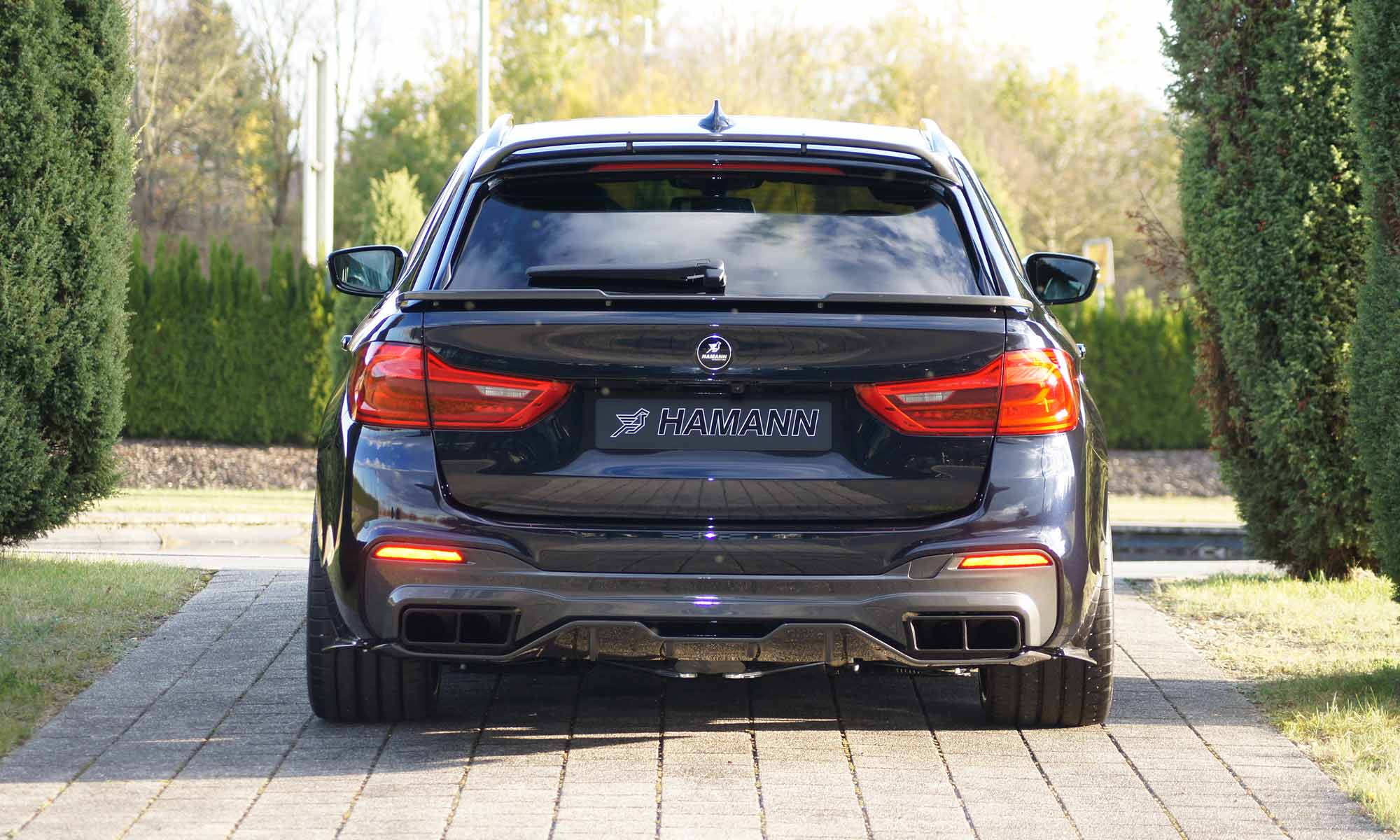 5 Series refinement and tuning at highest level
Its design leaves no room for doubt on the sporty aspirations of the Bavarian star.
This is where HAMANN Motorsport comes in with its made-to-measure individualization concept – for all 5 Series enthusiasts who want to stand out from the crowd.
HAMANN MOTORSPORT tuning kit for the 5 Series
We call it "love at first sight": the filigree add-on spoiler gives the 5 Series' front that certain something, which is reflected in the precisely fitting side skirt attachments. This sporty line is continued through a skilful design composition comprising a roof spoiler, rear spoiler and a modified rear section.
For an exclusive appearance, HAMANN Motorsport offers you two versions in its 5 Series programme: the rear section variant "Elegance" relies on accentuated "understatement", while the "Sportivo" version has an aggressive and self-confident look. The design's "cherry on the cake" are tailor-made air intake panels and rear winglets – an aerodynamics component derived from motorsports technology.
Tuning components for the 5 Series Saloon and Touring
More is more, we think at HAMANN Motorsport! True to this motto we added power advancement modules* to our 5 Series programme for the G31 model. And not only proud owners of a 5 series shall enjoy these. HAMANN Motorsport also offers noticeable more power for the 520d: by 30 hp to up to 220 hp/162 kW at 4000 rpm and a maximum torque of 460 Nm at 1800-2200 rpm (standard: 400 Nm at 1750-2500 rpm). The appropriate sound experience is delivered by a sports exhaust system with up to four tailpipes and anodised tail pieces in silver or black.
The power advancement comes along with a smooth adjustment of the suspension components and the interaction of an exclusive wheel/tyre combination: customised sport springs offering a lowering by approximately 30 millimetres and the wheel spacers ensuring an extremely precise alignment of the wheels with the edges of the wheel houses give the vehicle a special self-confident look and convincingly dynamic driving characteristics.
These are supported by the extremely durable 21-inch light-alloy sport wheels of the "Anniversary Evo Black Line". High-performance tyres sized 255/30 inches in the front and 295/25 inches in the back fulfil highest demands in terms of steering precision, cornering and the grip with extreme acceleration and deceleration.
Want some more? Then move a little closer: in the cockpit and on the headrests, you can enjoy noble leather Alcantara applications. And then there are the inner values: in true motorsport style, the HAMANN Motorsport pedals and the foot rest are made of high-class aluminum.
HAMANN tuning with authenticity certificate
To defy tuning fakes and cheap imitations, HAMANN delivers all its original and accessory parts with a Certificate of Authenticity since 1 November 2016. The certificate in DIN A6 format is forgery safe thanks to a protected hologram. It identifies every item by its original item number and documents the authenticity of relating components or accessories, such as a set of wheels or an aerodynamics kit. With good reason: Every HAMANN product is backed by a high demand – high-grade materials, high accuracy, most modern product processes and precision down to the tiniest detail. This is what HAMANN Motorsport stakes its reputation on.
No matter whether individual components or the complete personality package for the 5 series, HAMANN Motorsport turns the BMW into an exclusive model. The carefully concerted modules – separately or together – guarantee a coherent overall concept. HAMANN realizes the exclusive individualization at its headquarters in Laupheim or at international partner sites.