Tuning for the BMW X5 F15
Power advancement for the BMW X5 F15
The BMW X5 in the latest version as F15 comes on strong – and HAMANN has developed some exclusive options for it: chip tuning, aerodynamics parts, body kit, suspension tuning, sports exhaust system and precious accessories that turn every X5 into an even more powerful and individual statement.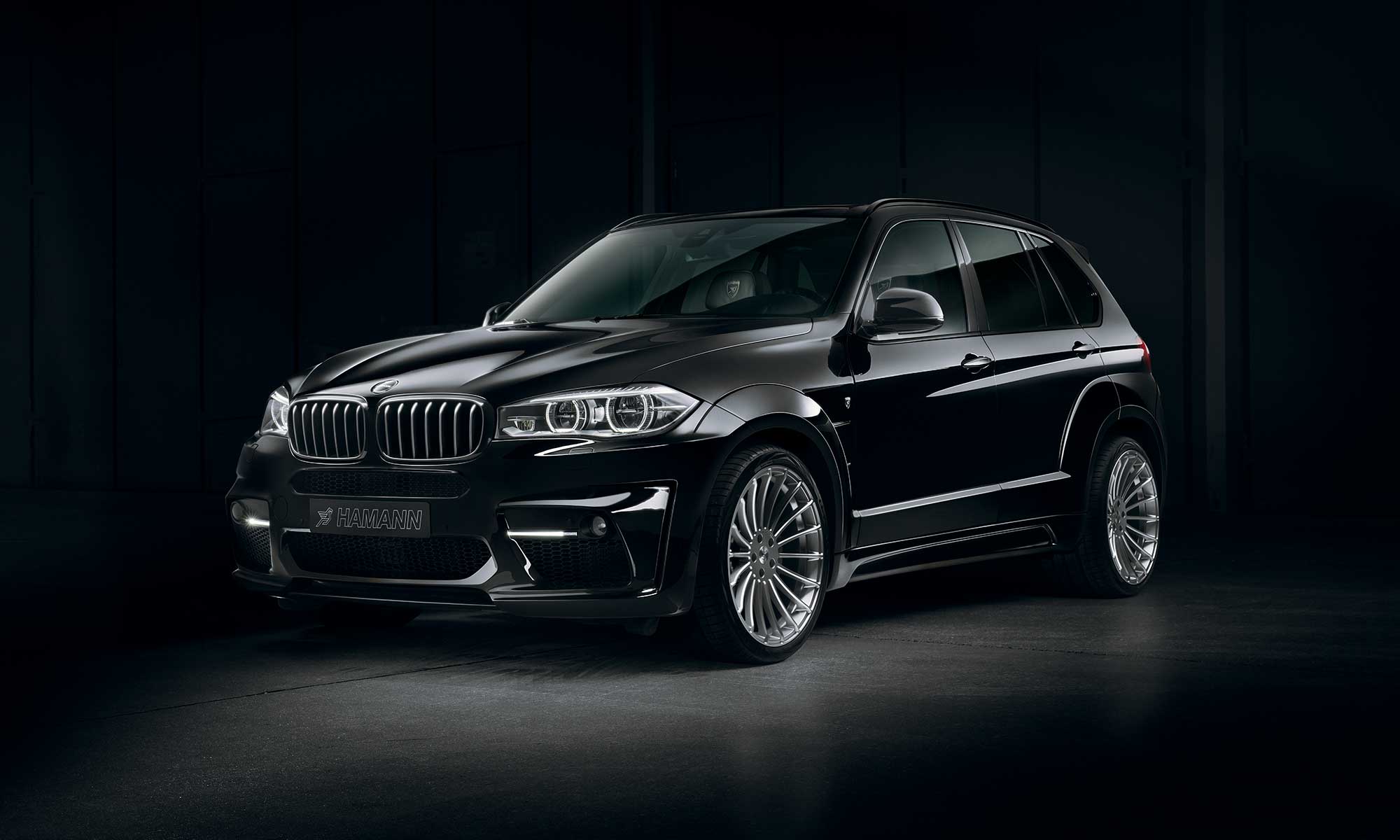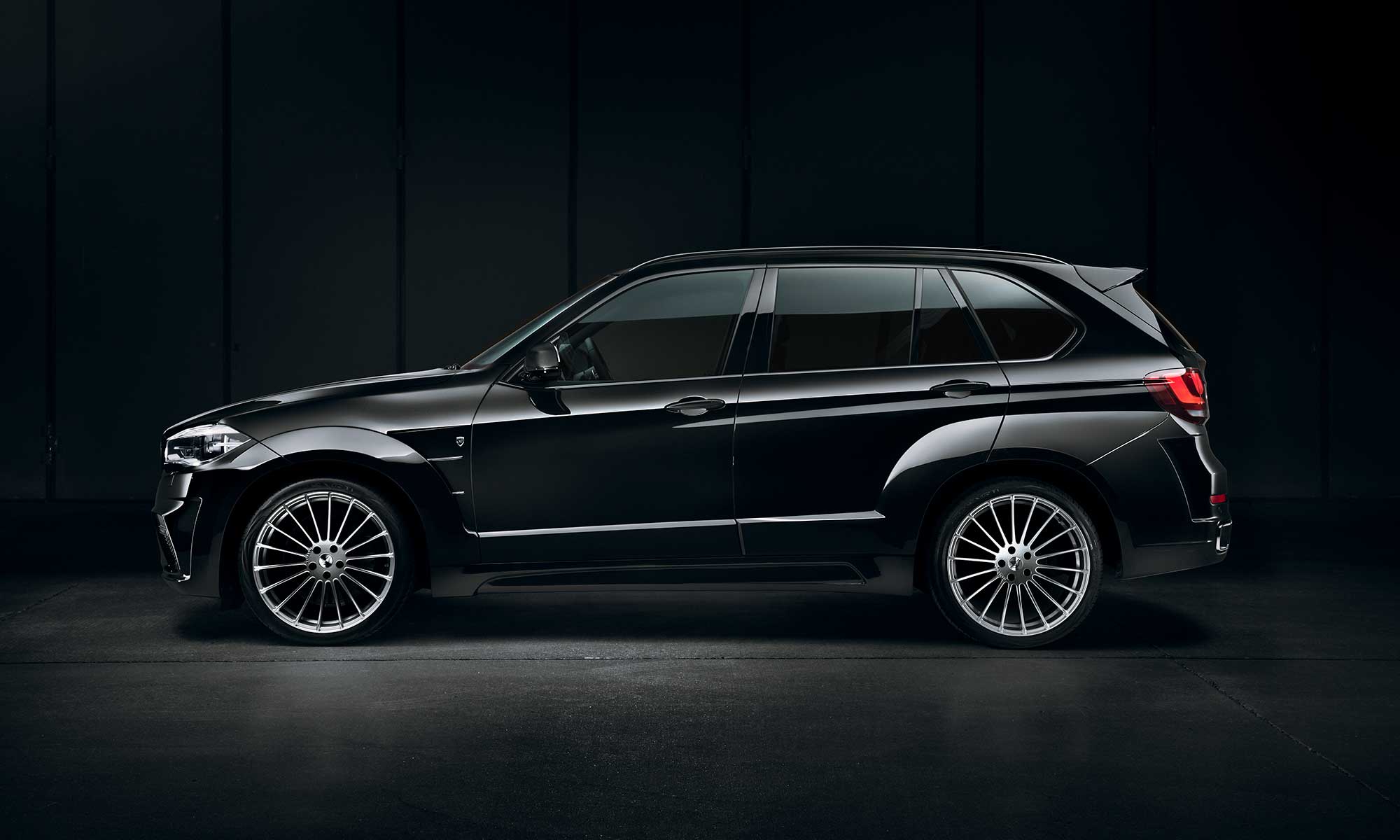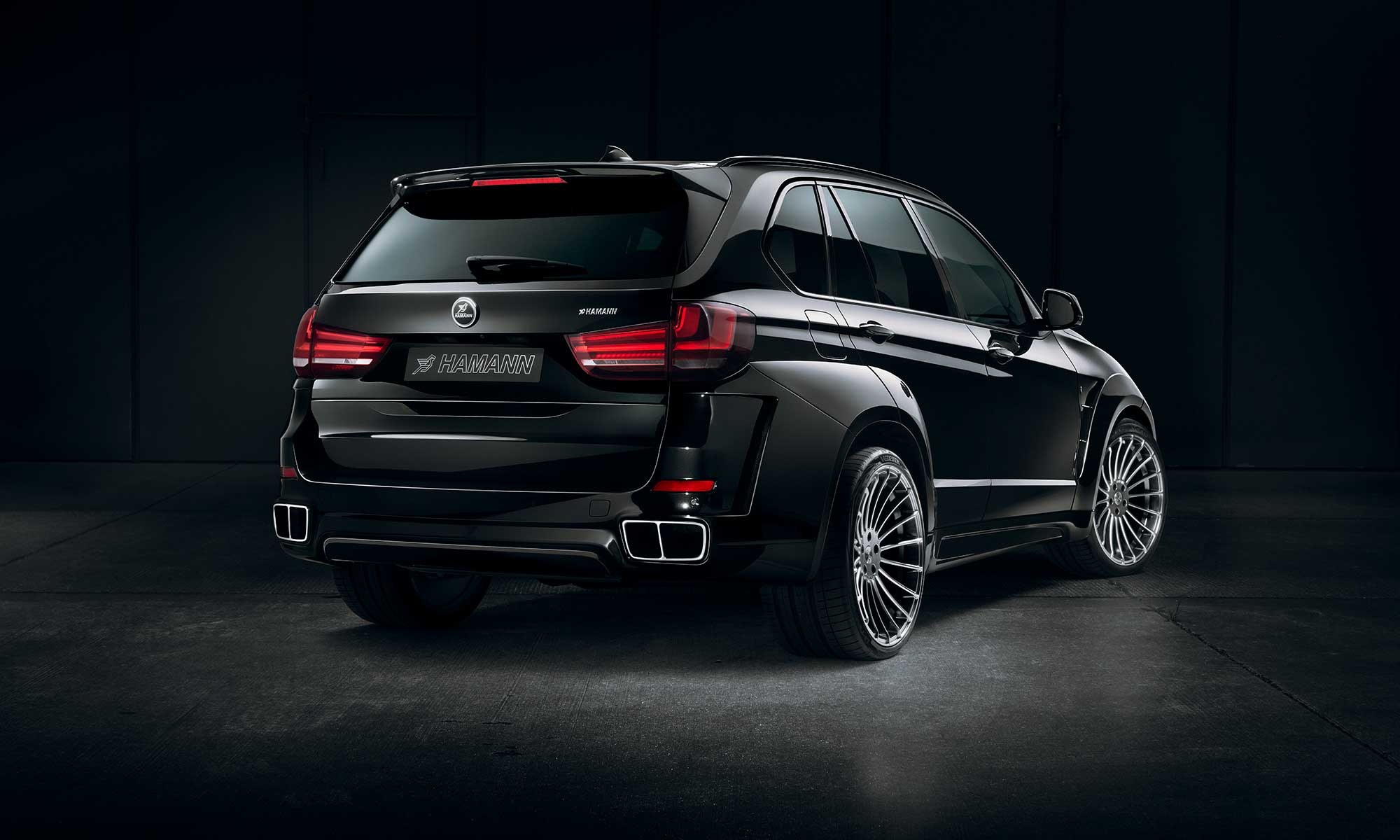 Tuning for the BMW X5 F15
From luxurious visible carbon fibre to lightweight GRP for exterior mirrors, roof spoiler and diffuser – HAMANN offers a sophisticated alternative for almost all attachment parts. Those who want to know the limits find the ultimate answer in the wide-body design for the Bavarian SUV. It gives the F15 a completely new face on the front: a characteristic HAMANN front skirt with integrated fibre-optic daytime running lights and LED fog lights. The new carefully manufactured wings with outlined air intakes make the X5 grow by 12 cm in width.
The elegantly shaped side skirts merge into the four-piece wing extensions which are adjoined by a formidable rear skirt with potent diffuser. The rear section immediately draws the attention to the sports exhaust system's four black or silver anodised tailpipes – a true joy for sound enthusiasts. The mufflers made from best stainless steel are available for the xDrive 40d, M50d and xDrive 50i models.
A strong car virtually screams out for power advancement. For the 25d, 30d, 40d, M50d, xDrive 35i and xDrive 50i engines, HAMANN offers a control module that optimizes the performance via chip tuning. This way, HAMANN boosts the M50d, the strongest six-cylinder diesel with three turbochargers, from 381 hp to up to 462 hp. And the small xDrive 35i petrol engine produces 360 hp instead of 306 hp.
Tuning parts for the BMW X5 F15
HAMANN's BMW X5 tuning parts include an adjustment of the suspension components. The lowering kit with sport springs lowers the X5 by up to 40 mm and thus makes the F15 a true star of the curves. The impressive tuning wheels from HAMANN play a decisive role here. There is a choice of as many as six designs; a special eye-catcher is the "Anniversary Evo Hyperblack" with a noble black/silver lustre. On the front axle, HAMANN wraps the one-piece quality rim in multi-spoke design with 295/30ZR22 high-performance Vredestein UltracVorti tyres. In the back, the 335/25 ZR22 tyres ensure more grip. Vredestein's UltracVorti fulfils 100 per cent of the refiner's requirements in terms of cornering, grip during acceleration and deceleration, and steering precision.
Finally, HAMANN offers BMW X5 tuning customers a tailor-made individualization of the interior. Besides fulfilling special paint and leather desires, HAMANN has anodized aluminum applications for pedals and foot rests in various colors, high-quality velours floor mats and car door LED welcome projector lights with HAMANN logo.